When we lived in San Diego, I enjoyed stand up paddle boarding (SUP) and spent a lot of time cruising down the channel or in the bay. Our neighbor owned a SUP rental company, and would often drop boards off in our side yard to take on adventures. I would have loved to try a SUP exercise or yoga class while we were in SD, but we moved to Valdosta before I had the chance. The beach is a liiiittle farther away now. Fortunately, Laura (who does a lot of behind the scenes work for this blog) takes a SUP exercise class at her gym in Silicon Valley, and she offered to share her experience with you. This post will be a helpful guide for any SUP exercise class format, but specifically focuses on Aqua Stand Up®. Laura is also a Pilates instructor, so her perspective is that of a group fitness instructor. You can follow her adventures in raising healthy kids on Instagram.
Paddle Boarding vs. Paddle Board Group Exercise
My husband and I have enjoyed SUP since we first gave it a try when vacationing in San Diego. Since then, we've rented boards in France, tried it out on some lakes in Northern California, and recently decided we enjoyed it enough to buy our own. We hope to have many more SUP adventures in various states in the years to come!
Paddle boarding is good exercise in itself, but the most fun thing about it is exploring wherever you are from the water. Even though I enjoy it and have never fallen in (*yet*), I'm always a little nervous about it – especially when we're on the ocean! I've seen SUP yoga classes offered on open water and was curious about them, but was most excited when my gym started offering SUP exercises class in the indoor pool. There's nothing to explore there – just a focus on working out – and it's not so scary to fall in. I knew I had to give it a try!
Here's what you need to know about Aqua Stand Up® (this is the class my gym offers) and why you might want to try it too.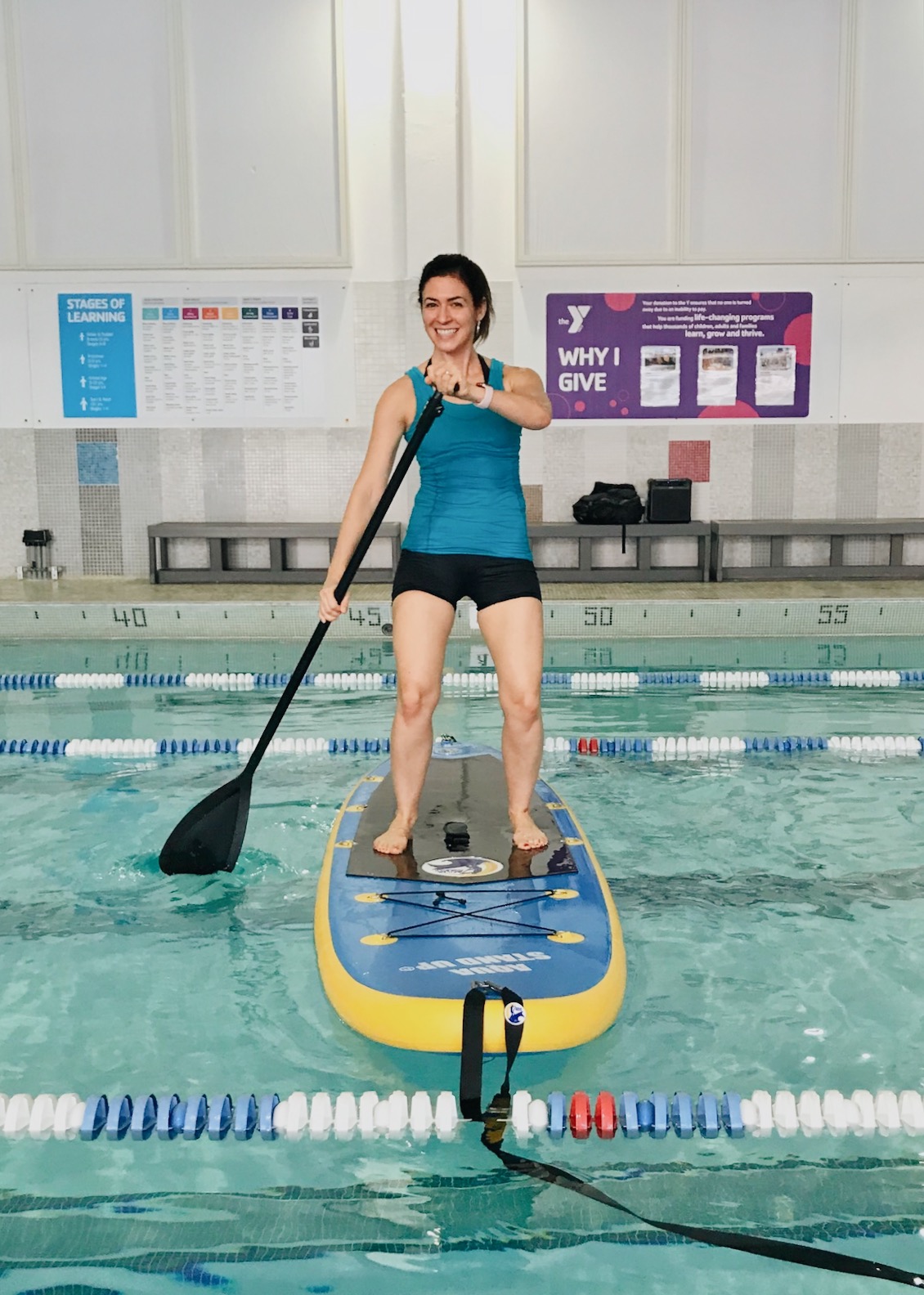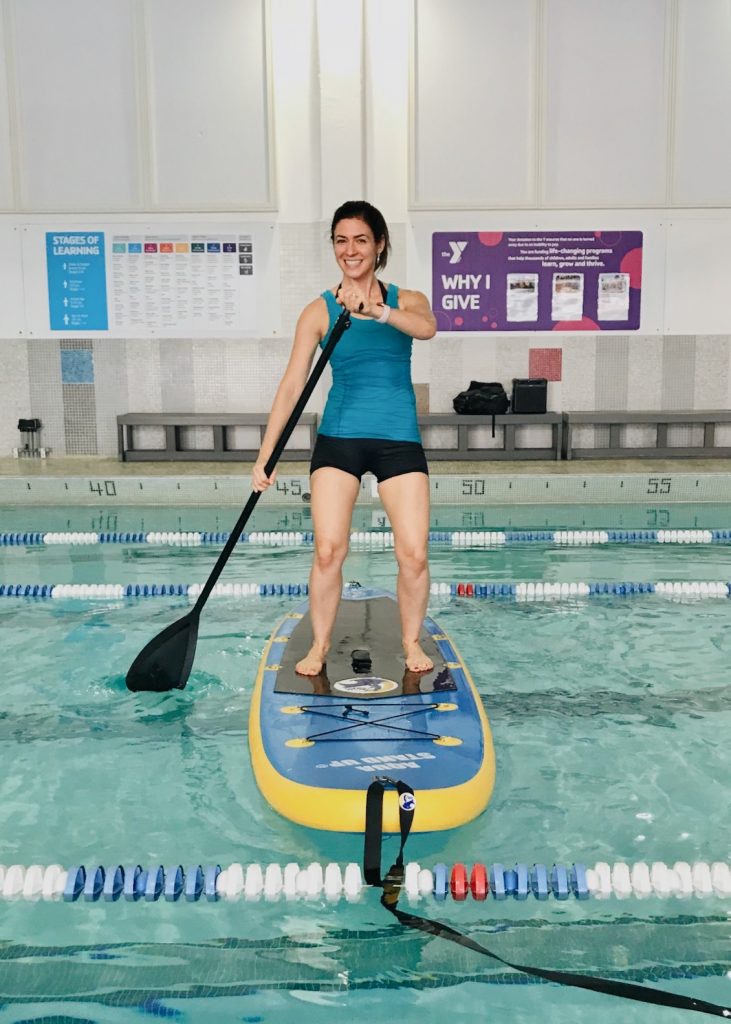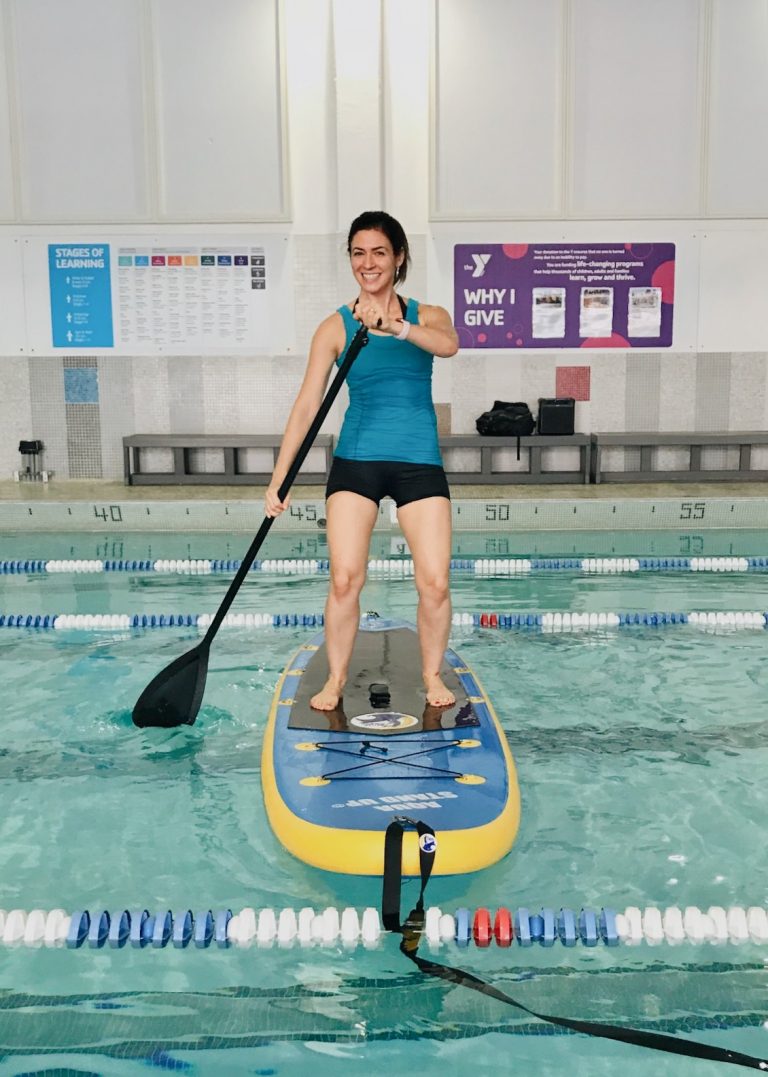 What is Aqua Stand Up®?
Aqua Stand Up takes traditional outdoor SUP into the gym! You perform exercise moves choreographed to popular music, all while on top of a paddle board in your gym's pool. You'll challenge your balance and activate your core while doing a variety of moves from basic strength training, to yoga and Pilates.
Check out this teaser video to see what the class is like:
Here's What You Can Expect in Aqua Stand Up® Paddle Board Class